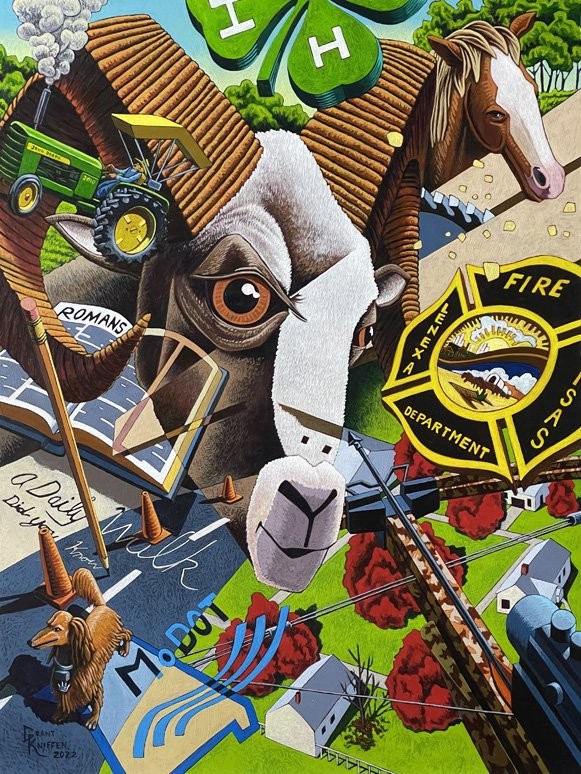 RamsEy(e)s
---
Description

The idea for this commission painting was from a small sketch by the patron had made playing around with their last name, Ramsey. It depicted a ram's head with a proportionately oversized eye thus, Rams Eye – Ramseye. The rest of the composition was to involve her husband, Eric's interests, jobs, hunting woodworking and their shared interests of faith, the farm, and their animals. I knew this would be a challenge trying to determine which elements to use and which to leave out and how to arrange them.

My compositions involve a blending of different art historical influences, mainly early twentieth-century Modernism, with a stylized realism and a dynamic arrangement of the space. This composition is anchored around the large three-quarter view stylized Ram portrait with an oversized eye. In the depiction of the eye, I chose to depict a human eye with a round pupil rather than the somewhat rectangular shape that it is. I wanted to make that connection between the human and ram pun. I purposely played around with the depiction of the ram's horn by drawing it a bit "out of whack." I wanted to challenge the viewer to see if they even noticed, bringing a little fun to the image.

The sky and trees at the top of the composition represent the love of the outdoors. Centered in that area is the 4 H symbol representing Selinda's and Eric's involvement with that important rural organization. The logo of the Lenexa, Kansas Fire Department is prominent to the right, as that has been a significant and important part of Eric's life work. Eric's love of bowhunting is prominently represented by the crossbow and arrow leading or redirecting the viewer into the composition. While Eric says he no longer paints, he really enjoys his various aspects of woodworking symbolized by the board being cut on the table saw in the center of the composition. The lower right quadrant shows the farm that they dearly love. The upper right depicts one of the horses they own and enjoy. The John Deere tractor in the upper left depicts Eric doing his work on the farm. The lower left represents his current safety work with MoDot signified by the logo, asphalt road and safety cones. In the left mid-section is the Bible opened to his favorite book, Paul's letter to the Romans. Eric also contributes to his congregation's bulletin with regular observations and thoughts to encourage and strengthen faith in a section titled "A Closer Walk." Finally, the far lower left depicts one of their precious dachshunds.